Visit Our Store
Visit us at our store to view our inventory selection. Contact us by phone, fax, or email using the information listed below.
Linn Grove Commercial Center
5012 53rd St. S, Ste C
Fargo, ND 58104
Hours:
Monday - Friday
9:00 AM - 5:00 PM
Closed Saturday & Sunday
Closed on major holidays
Call: 701.212.1921
Fax: 701.356.4376 
Email: info@herofargo.org
Alternative Routes Due to Road Construction

Due to road construction projects along 52nd Ave, customers must use alternative routes to HERO. See directions below.
From 45th Steet South:
Hornbacher's Osgood/Casey's General Store
West on 44th Ave S
South on 53rd St S (Residential)
Left on 50th Linn Grove

From Veteran's Blvd:
East on 44th Ave S
South on 53rd St S (Residential)
Left on 50th Linn Grove
For more information on the 52nd Ave road construction project please visit the City of Fargo website here.
For additional assistance with directions please feel free to call us at
701-212-1921.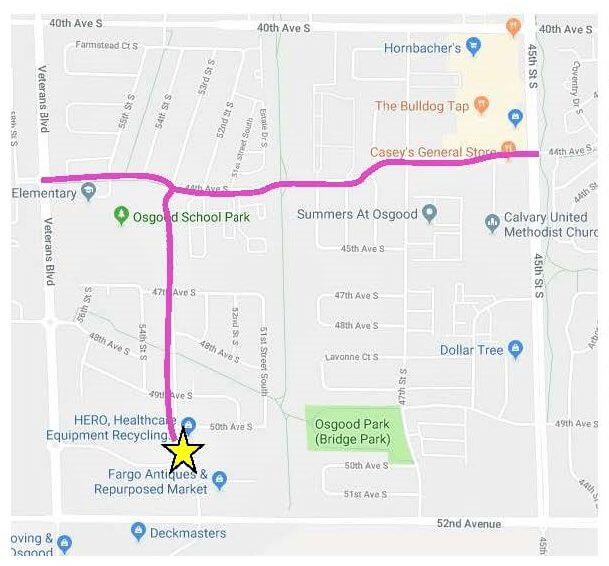 Contact Us

We would love to hear from you! For general inquiries, contact us via email, phone, or fax or use the email form provided. For topic-specific inquiries, please reach out directly to our friendly staff listed below.
Executive Director
Maren Gemar - Maren@HEROFargo.org
​​Department Management
​​Fundraising and Grant Research
​Strategic Planning
Operations Director
Georgia Dufault - Georgia@HEROFargo.org
Warehouse and Inventory Inquiries
Volunteer Inquiries
​Global Missions​
​​Communications Coordinator
Bridget Ertelt - Bridget@HEROFargo.org
Public Relations
Marketing and Advertising
Event Planning
​​​Warehouse Coordinator
Eddy Doxtader - Eddy@HEROFargo.org
Warehouse and Inventory Inquiries
Pick ups and Deliveries​
Donation of Medical Supplies

Operations Associate
​Diane Holden - Diane@HEROFargo.org
​
Online shops
Inventory
Customer Service
Connect on Social Media

Get social with HERO on our social media platforms! Follow us on Facebook, Instagram, and Twitter for the latest in HERO happenings.
STAY UP TO DATE WITH THE LATEST HERO NEWS
Subscribe to our Newsletter
Sign up to receive our HERO Happenings e-newsletter. Our newsletter contains heartfelt stories from our HERO family as well as updates on upcoming events and more! Learn about HERO's impact in our community and around the world.